Interview with a Locksmith
Posted by Chris Dangerfield on
How do I become a Locksmith? How much should a locksmith cost?
Interview with a Locksmith
These and more questions will be answered by someone who knows – Clark  – a locksmith with nearly two decades of professional locksmithing experience. I want to thank Clark for this conversation and hope anyone interested in lock picking or perhaps becoming a locksmith, or just learning more about locksmithing, will get some value from it. Enjoy….
Professional locksmith Clark has been working as a locksmith in the Greater London area for over eighteen years. Being the largest lock picking supplier in the country, Lock Pick World gets a lot of questions about locksmithing, such as: How much should a locksmith cost? How do I get a good locksmith? Can you recommend a good locksmith? As well as people asking questions like: How do I become a locksmith? How do I train as a locksmith? And more. So, I thought why not ask someone who knows. My questions are in BOLD. Let's do this!
Hello Clark, thank you for giving us your time, it's much appreciated. You've been working as a locksmith for nearly two decades, how did you get into locksmithing, what was your training, and can you tell us about your first actual locksmith job?
Thank you for asking. There's a lot of myth and mystery around being a locksmith, especially starting out, so I hope I can help. When I was nine, my teacher at school lost a key to a padlock which opened the stationary cupboard. After ten minutes of panic, he left the room to seek help, and I remembered an old episode of the TV show "The Saint' where the main character used a paperclip to open a padlock. As kids do, I literally just shoved a bent paperclip into the padlock and moved it around and it opened it. Pure luck! When my teacher returned, he was surprised and relieved as the lost key was in the cupboard. It was such an amazing buzz, opening that first lock, and I knew there were plenty more locks I could try to pick. Did you know the average household has about thirty locks? Anyway, I got the bug and ever since I've been fascinated with locks, how they work, and how to defeat them non-destructively. I managed to open an old combination bike lock we had as well as one of those small petty cash boxes – there was no money in there, but it was still a buzz. In fact, I've found many locksmiths are, of have been, fans of magic and escapology, which makes sense.
That's remarkably similar to my story – me and my brother used to make prank phone-calls, running up the bill. So, eventually my parents put a lock on the telephone. It's going back a while so it was one of the old dial telephones. I think it was more a lack of understanding rather than knowledge, but I thought the gunk-scraper from our toenail clippers might fit in the lock. They did, and without knowing anything about the technique, I jiggled the lock open. The next phone-bill was quite the mystery to my parents! I also got into conjuring as a kid and did my GCSE oral exam about Harry Houdini. I didn't need to write it down or anything since I already knew so much about him. I guess it's that fascination with doing something you shouldn't be able to do – you shouldn't be able to change the colour of a card, you shouldn't be able to escape a straight-jacket suspended upside-down in water, and you shouldn't be able to open a lock without a key. What about your training?
Training wise, in the beginning I signed up to many courses and passed various levels, courses that were run by Master Locksmiths that had great reputations, and I learned a lot. They taught me what I needed to know to proceed and eventually become a professional locksmith. However, there are some courses which promise the world but don't live up to the hype. I would advise anyone wanting to become a Locksmith to do as much research as possible. Speak to people who have done the courses you're looking at, see if there's any social proof or reviews of the courses online.
Yes, I've heard some nightmare stories about some courses, people paying extortionate amounts of money and after three days barely know how to pick a pin-cylinder. I've had many people write to me with crazy stories where they did, say a four-day course, were given a meaningless certificate and started advertising their locksmith business. Needless to say, they spent a lot of money, bought a lot of tools, and when it came to it, didn't know what they were doing and gave up. How else would you suggest people do the necessary research?
Look for lock picking forums, there's a lot on Facebook for instance, just search Facebook for 'lock picking' and you'll see plenty. Go for the ones with big numbers as you'll get a wider range of advice and experience. If there's many people on there, you can ask about different courses in your area, or just ask for suggestions. Other people will either agree or disagree, so you'll get a sense of what courses are respected, and perhaps more importantly, which courses aren't. I'd also suggest finding our exactly what you're getting. Don't be sold on clever marketing and nice websites, anyone can make those. Spend time asking exactly what you'll learn, how many people are on the course, how long the course has been going, and what the tutor to student ratio is. If there's one teacher and thirty students, you're pretty much going to be left to your own devices, which I'd suggest isn't a good course. Ask questions, and ask around so you can compare prices, and find out what you'll actually learn. Also remember you'll need to do several courses as there's a lot more to locksmithing that lock picking. So be realistic about what a course will give you and what else you'll need to learn further down the line.
My first ever real job was a lady locked out of her property. She was in a hurry and rushed out without her key. I would be lying if I told you I was relaxed, even though I had a lot of knowledge and had been practicing for months; everything from lock picking to lock installation and repairing locks. But in truth I was very nervous and my mind was racing, I kept thinking "What if I can't do this? What if I can't get her in, what then?" But after a while I learned to keep calm and have faith in my abilities. If you don't have that confidence – it usually means you don't have the necessary abilities and you shouldn't be doing it. So, I arrive and access the door, check out the lock and the surrounding area. The cylinder on the customers door was a basic Yale night-latch, not difficult, but a job that could be a pain if you go in all guns blazing. After double checking that this was the only lock that we were dealing with, (customers tend to forget to tell you about secondary locks, this is a bit of a pet peeve of mine actually), I decided to try to bump open the lock. She said the key was inside, so all I had to do what get the door open. A quick blast of PTFE spray, a good quality bump key, and two taps of the bump-hammer later the door was open. Relief all round. After that, I got into the habit of asking lots of questions before every job to make sure I have a plan. Customers are often in a state of panic, especially if it's an emergency lock-out, but even just changing the locks, because understandably home security is important to them. So I try to calm them and get as much information out of them as possible. One customer failed to tell me her key was hanging up in the hallway, about two meters from the door – had I known I could have put a rod in there and grabbed the key. I also told her that was a bad place to keep her keys, for that very reason.
We're often asked to recommend locksmiths as I think people are perhaps rightly aware of potential risks like being charged a fortune, or sub-standard work. In an industry which is rather secretive, what would you suggest are some of the ways people can mitigate the risks and ensure they get someone who will do a professional job and not over charge them?
Recommendations are the best way to ensure you get a Locksmith who has a great track record, word of mouth is still the best way to ensure you're getting a decent professional. If a friend tells you they had to call a locksmith and they were happy with the work and the price, grab the number and put it in your phone. You don't know when you might need a locksmith and how much time will you have to do the research if you're locked out in the rain? Unfortunately, the habit of calling the first number found on a Google search tends to lead you towards rogue Locksmiths who quote low prices then quadruple the cost while onsite. Always check that the Locksmith you call has customer reviews across a number of different platforms, there's plenty of review sites out there, so use them. And again, do this before you need a locksmith so you have a couple of choices you've researched in advance, and get the numbers in your phone. Also, ask for photo ID, which is not an unreasonable request and a profession a locksmith will happily provide this information – take a photograph of it too, again, a decent locksmith won't mind and will fully understand. Price quotations should include VAT and any likely WCS (Worst Case Scenarios) so you have a better understanding of potential rises in costs before any work is carried out.  If the lock is faulty and they can't open it, they might need to replace it for instance, which will obviously increase price. Is the Locksmith wearing a uniform? Do they have a credible website? Call at least three different locksmiths and compare their prices, their assessment of the job, and their attitude. Cheap doesn't mean skilled, and skilled doesn't mean cheap, and in that I mean that the phone quote of forty-nine pounds might be appealing, but in many cases the scammer uses this to get the booking.
That leads me onto my next question very nicely, the one we get asked the most – How much should a locksmith cost? How do you know what to charge a customer, and could you break down the variables that go into pricing a locksmithing job?
Pricing is a very difficult question to answer. I'm certainly not avoiding the question but many factors go into a quotation. Type of lock or locks, distance to client, time of day (or night), how much of an emergency is it? All these factors and more have to be considered before pricing can be finalized. One client may have a basic night-latch, they are locked out at 1pm and only 3 miles from you, but another client could have a high security lock, its 2am, they are 14 miles from you. So pricing is customized to each client. There is not a national rate for specific locksmith services but what I would say is to avoid locksmiths who advertise very low rates as they tend to be the ones who will make a excuse to drill your lock, replace the lock and therefore justify inflating the price. Whereas a decent, ethical locksmith might be able to pick the lock, make you a new key and charge you half the price – even when their initial quote was the higher out of the two. A good, high skilled Locksmith will give you a "From X to Y" price range and will action several techniques to get your lock open non-destructively, rather than taking the easy route which will also cost you more money.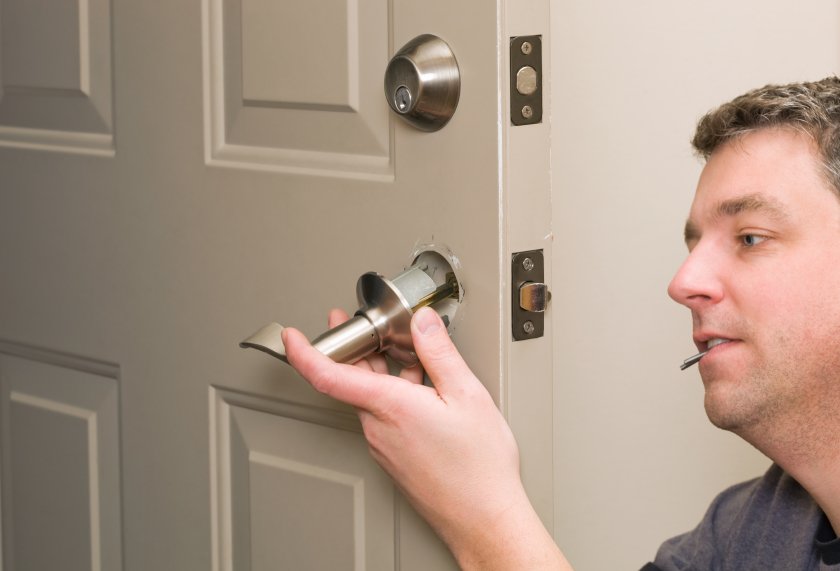 What makes up the majority of your locksmith work? Most people assume locksmithing is emergency call-outs, where people have come home only to find they've lost their keys or locked them inside the house. But is that the reality? Can you tell us a bit about the variety of work you actually do?
Emergency callout are a very low percentage of bookings. Lock installations, repairs, adjustments, door alignment, faulty UPVC issues and carpentry make up the bulk of the work we do. Personally, I have found that handymen or builders are a factor into issues related to lock problems as they don't fit them correctly. A lot of the time I find I'm cleaning up the mess someone else has made.
If someone wants to be a locksmith, what would you advise they do, where do you start? I suppose the question is: How do you become a locksmith?
The profession will not be for everyone. It may come across as a very cool job where you're the hero of the hour, but in reality, it's not nine to five. More often than not your being called at all hours of the day and night, in harsh weather conditions, in difficult scenarios where you really have to think out of the box to get the job done. Being a Locksmith weighs heavily on your personal life. To make a living you're always on call, and no week is the same. It's not as financially stable as you might think as your profits depend on demand. I am not trying to put anyone off becoming a Locksmith as I do love the job and am nearly twenty years down the line, but it's a difficult job which demands commitment equal to a firefighter or doctor for instance.
My advice is that if you really want to be a locksmith you need to do your homework and research great Locksmith training schools. Avoid the three and five day courses that won't really teach you anything. Guide yourself towards detailed courses and above all practice, practice, practice. And keep learning all the time, keeping up with new lock technology and new lock picking techniques and tools. The internet has made this a lot easier, so use it. If you don't keep your skill-set sharp you won't be effective when it's needed.
You've been a locksmith for a long time, what's the weirdest job or jobs you've had?
I have so many weird jobs I could tell you about, but one that stands out was when I was called to a gentleman who was locked out due to his dog. He explained that he went out to get some groceries and when he returned home his key wouldn't turn in the lock. The reason why his key and lock wouldn't work was not that there was a problem with either, but because when he left his Great Dane at home alone, the dog had a habit of jumping up at the door. When the dog did this, it would accidentally hit the snib button (which locks the lock from the inside) and basically temporarily disables the lock, even from the key. The sight of a huge dog staring at you through the letterbox is not for the weak, especially when I don't smell familiar and the dog probably sees me as a threat.  Anyway, the customer got back in with my help and lock was changed to one the dog couldn't disable when it jumped at the door.
Thank you, Clark. For anyone who wants to be a locksmith or is considering making a career out of their lock picking hobby will definitely get something out of your answers. Best wishes.
 A pleasure – big up the locksmiths!
 ©Chris Dangerfield 2022
---
Share this post
---
---